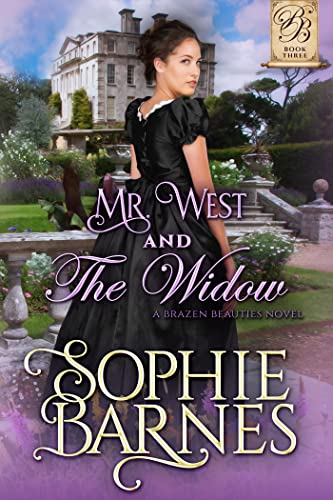 The Brazen Beauties Book 3
Historical Romance, Regency Romance
Date Published: March 21st, 2023
He's a powerful landowner…
She's an irresistible wallflower…
For nearly a year, Victoria Leighton has shut out the world. Her sole focus has been on paying off the debt she inherited from her husband and securing a comfortable income. Unaccustomed to independence, to stepping out into Society and getting noticed, she ignores the cravings of her heart. Until a stranger arrives on her doorstep and presents her with a daring invitation.
Colin West hates complications. But when he seeks shelter from a storm and meets a reclusive widow, instinct compels him to save her from her self-imposed prison. Soon, he's hosting a house party and doing his best not to fall for the quick-witted lady. To do so would be disastrous. For if the scars he received in war have taught him anything, it is that he is incapable of instilling desire in any woman, never mind love…
Excerpt:
Colin strode from his room, descended the stairs, and made his way to the library. He paused immediately to the left of the open doorway, took a deep breath, squared his shoulders, and positioned himself so the ruined side of his face remained out of view as he entered the room.
It took him a moment to find Mrs. Leighton. Slight of build, she stood to the right of the door, her attention fixed on a book she'd pulled from one of the shelves. Although her back was partially turned toward him, there was no denying her beauty. Not even at this angle. 
Auburn tresses swept into a loose knot afforded him with a view of her neck, of the delicate bone at the top of her spine as she bowed her head to read. A stray strand of hair lay against that unblemished skin, infusing him with a most bizarre need to tuck it back into place. 
He shook himself free from the notion and gave the open door a gentle knock. 
With a small start and a swift glance over her shoulder to see who was there, she turned. "Mr. West. Thank you for agreeing to join me."
Colin stared at her. It was impossible not to when the hesitant smile she offered lent an almost angelic innocence to her appearance. He'd thought her beautiful when he'd first seen her, partially covered in mud. Now, he acknowledged, she was much more than that.
This woman, with her almond shaped eyes fringed by long sooty lashes and with a pair of rosy lips parted as if in question, was utterly divine.
Her slender body, gently curved beneath the black folds of her bombazine gown, hid what he imagined to be a pair of dainty ankles and–
He blinked at the realization that he was admiring the tips of her slippers while wondering about her toes. Idiot. He snapped his gaze back to hers and cleared his throat. "Thank you for inviting me into your home."
That hesitant smile curved upward with added warmth, dimpling her cheeks. "I'm glad I did or Jasper and I would likely have been worse off."
A shudder raked through him. 
"Surely not. Mr. Reynolds would have found you both eventually." He considered her obvious state of mourning and told himself not to pry. Ignoring the voice of reason he asked, "I trust there's no husband to speak of?"
A long inhale was followed by a deep exhalation, as though she needed additional air to steady herself. "He died nearly a year ago."
"I'm sorry." He was a cad for making her state what he'd suspected to be the case, for making her address the loss she'd suffered. And it had been a loss. Her anguished expression proved it.
She held his gaze until the silence became pronounced before suddenly dropping the book she'd been holding onto the table where Sense and Sensibility still remained. An awkward pause followed, then she seemed to collect herself and gestured toward the armchairs. "Please, come have a seat. There's tea if you like."
Her artlessness suggested she was unused to entertaining guests. A strange occurrence in an upper-class woman who didn't look more than five and thirty.
Accepting her invitation, Colin crossed to the proffered seat. As he passed her, he took a deep breath and was instantly struck by the sweet, fragrant scent that swirled in the air around her. It was like peonies after a cool spring shower - an understated perfume that served to enhance the allure of the wearer rather than overwhelm them.
As far as Colin was concerned, it was tempting as hell and a blatant contrast to the bolder scent of roses worn by his mistress, Isabella. 
He took his seat and waited for Mrs. Leighton to do the same, then watched with interest as she served the tea - first his cup and then her own. Her hands, he noted, were delicately formed with slender fingers that quivered ever so slightly beneath the weight of the pot, until several drops missed the cup they were meant for and stained the white cloth that covered the table.
"Forgive me." She set the pot aside and reached for a napkin with which to dab at the mess. "I'm not accustomed to having visitors, though I dare say that's no excuse for clumsiness."
"It's as good as any." He raised his cup and sipped his tea.
"You're too kind." This was said without glancing in his direction. Followed immediately by, "I wish there were more I could do to repay you."
"For not minding about the spill?" 
"No. Of course not." A nervous chuckle escaped her. She took a quick sip of her own tea, then sent him a hesitant glance. "For ensuring my livelihood. As you may have noted, the situation here at Leighton House is not the best. But Jasper will change that, I'm sure. Which is why I'm doubly grateful to you for saving him."
Colin knit his brow. He wasn't quite sure how a cross-breed like Jasper would improve upon Mrs. Leighton's finances. "If it's not too bold of me to ask, what do you expect of Jasper, exactly?"
"He's a truffle dog," Mrs. Leighton declared. "One of the finest ever bred in these parts, according to the man from whom I bought him."
Colin almost forgot himself and turned directly toward her. He stopped at the last second, his posture stiff as he carefully asked, "You know the seller well?"
"No, not at all. I think he was a traveling salesman."
"And he convinced you to purchase Jasper." Anger was quickly brewing inside him. There were no worse creatures upon this earth than those who took advantage of others. And as unfortunate as it was, Mrs. Leighton had clearly been conned.
"It seemed like a good investment." She sent him a swift glance accompanied by a weak smile. "Granted, I know very little about truffle hunting, but I'm certain I can learn. The important thing is for me to acquire additional income, and with Jasper already trained to–"
"Jasper is no such thing," Colin said. He stood, his jerky movements rattling the china. "That dog will never find a single damn truffle."
"He's all wrong for that sort of work. For one thing, he's not a poodle, a spaniel, or a setter, besides which truffle dogs are obedient and extraordinarily clever. They do not run off and get stuck in water-logged holes during storms."
Mrs. Leighton stared at him, her eyes as wide as Steven's had been at the tavern. The slightest gasp let Colin know that it was indeed his misshapen face, not his words, that prompted this reaction. Because he'd forgotten himself after all and in his frustration, he'd turned to her directly, allowing her to see the scarring that puckered his skin and made him look beastly.
The Brazen Beauties Series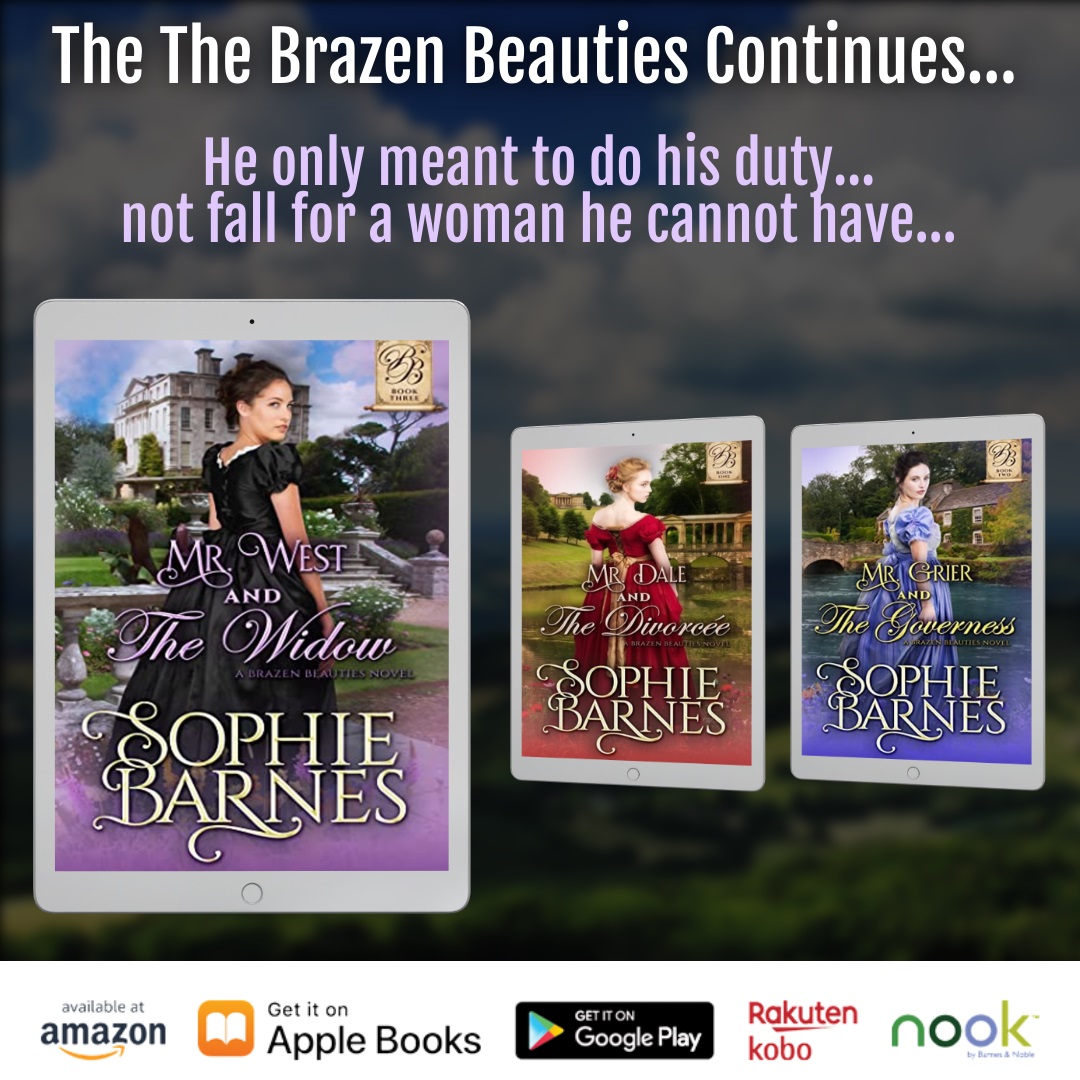 Mr. Dale and The Divorcée, Book One
Mr. Grier and the Governess, Book Two
Mr. West and The Widow , Book Three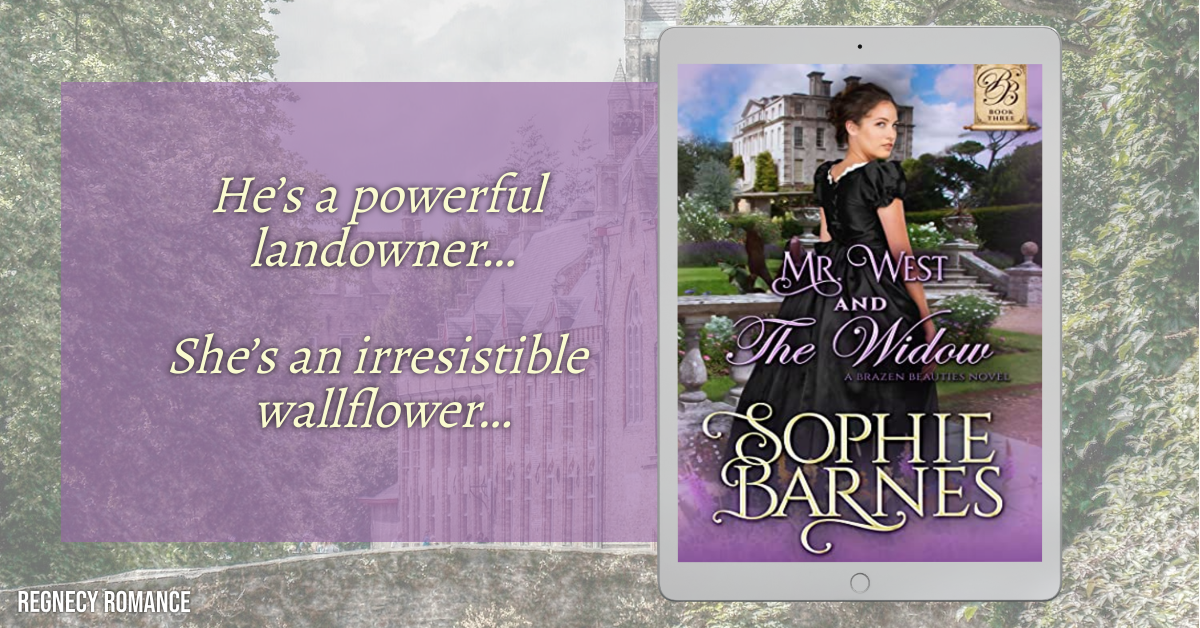 About the Author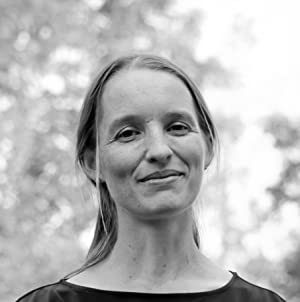 USA Today Bestselling Author, Sophie Barnes, has spent her youth traveling with her parents to wonderful places all around the world. She's lived in five different countries, on three different continents, and speaks Danish, English, French, Spanish and Romanian with varying degrees of fluency.
She has studied design in Paris and New York and has a bachelor's degree from Parson's School of design, but most impressive of all - she's been married to the same man three times, in three different countries and in three different dresses.
While living in Africa, Sophie turned to her lifelong passion - writing.
When she's not busy, dreaming up her next romance novel, Sophie enjoys spending time with her family. She currently lives on the East Coast.
Contact Links
Purchase Links