The author has a Rafflecopter giveaway at the end of this post!
Contemporary/Upmarket/Women's Fiction
Date Published:
September 2017
Vi Masters wonders…can you come home again? More, she wonders why anyone would want to. She fled upright, backwater Freedom, Iowa at seventeen and hoped never to return. But this time, she can't stand up against the pleas of the aunt who raised her. It's one weekend. How bad can three days be?
Three measly days in a wonderful eighteen-year marriage – that's what Vi's stepmother hopes. But what if Ben discovers what Tammy knew about why his daughter ran away – something he seems determined to finally find out? She can't be sure Ben would forgive her, and that's got Tammy scared to her bones.
One day in and Vi has to face how Aunt Sadie is failing, Caregiving will surely wreak havoc on Vi's hard-won career, but how can she not? At least she might be able to turn the party Sadie's planned into a night even Alzheimer's won't let Sadie forget.
But that's before Vi finds out Nate Barlow has moved back to town. Now after all she's already survived, Vi must dig deep for courage. Nate will never be able to accept Vi's past. Will he? Who knew hope would be so scary?
COME BACK Excerpt:
Chapter 13
Vi
Hair by Lindy, where Sadie's gone since time began, is just a few blocks from the Pinewood. Across Grove, up Maple, past the Elementary School and Library, right on Main. Funny how I still knew the route. Maybe our feet hold memories our brains don't have room to keep.
My feet were on their own as I left the Pinewood. My head was too full. Seeing all those folks from my girlhood felt like a bushel of Nerf balls hurled at me. Soft greetings and wishes shouldn't hurt. But so many bombarding me at once? I felt a little bruised.
Add a few sharp and pointy missiles mixed in with the Nerfs, and I hurt plenty. Connie aimed her arrow straight at my center. Direct hit.
She thought I had it coming. And maybe I did. Poor Nate.
But what he might face was the last thing on my mind when I left. Away – that was the only thing. Away. Away from that house, away from Freedom, away from what happened. And then I didn't think again – couldn't – till Opal took me in. One foot in front of the other was all I could do.
Even now I couldn't think, or it all came back – the horror and pain.
Can't let it in.
Not if I want to survive.
For too long, I asked if survival was what I wanted. Alive didn't look so good back then. And thinking? Way too risky.
But now, I couldn't escape the thinking – and what came with it. Blinding. Sharp. Full-strength pain. Waves on waves of it. My feet carried me onto the school playground. I sank onto a swing and gave in to sobs. I hadn't cried so hard since I was seventeen.
Why should it hurt so much now? Why?
But I knew why. It wasn't the horror of that last night that slapped at me. I'd dealt with that – more or less. But the sweetness before the horror? There was a missile aimed sure and true.
Nate.
Oh God. Nate.
What a shock to see him!
Why did Sadie never say he moved back home? Oh God. Nate.
What a shock to feel that same warm gladness roll through me just to see his face. Until the ice of Connie's anger – and Nate's apparent indifference – launched grenades.
I rocked on the swing and gasped great gulps of air.
Can't breathe. Forgot how.
I wasn't quick to catch on again.
Get hold of yourself Vi! Think!
No! Hurts to think! Can't think about all I missed – all that was stolen – with Nate!
There it was. My feet braced and my body bent over double. Nate was the black hole I never let myself think about all these years.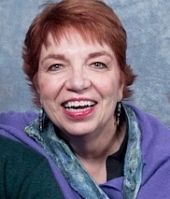 Sally Crosiar l

ives in the Finger Lakes of New York State where she reads incessantly, enjoys time in and on the water, savors dark chocolate with red wine at every opportunity, and teaches about health and play for Empire State College.
She is the author of Find the Love of Your Life, based on her own true story, My Uncle Dave, a children's book with an adult message, and co-author with Dr. Sidney B. Simon of Love Builders: Tools to Build Every Relationship. Come Back is her debut novel.