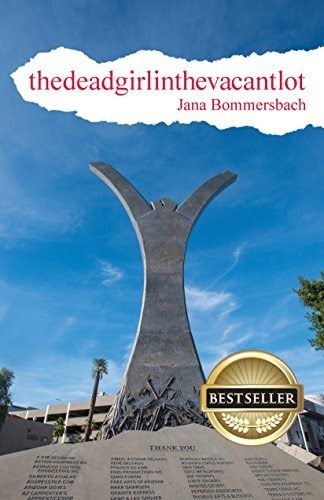 Date Published:
May 16, 2018
Publisher: Spotlight Publishing
Phoenix investigative reporter Joya Bonner is like most Americans—she knows nothing about the world of sex trafficking; thinks it's a problem reserved for somewhere far off. Thailand. Russia.
But the reality that this is an American problem slaps her in the face when her 15 year-old honorary niece disappears in Phoenix. And a 13 year-old from her hometown in North Dakota goes missing. And there's that pitiful dead girl in the vacant lot. As the evidence piles up that these are all part of the sex-slave underworld, Joy's awakening chills her to the bone.
She's sickened even more when she realizes the website that pimps use to sell these girls was created in Phoenix at the weekly newspaper New Times—by guys she knew; by journalists she admired; by men she'd defended in the pages of her own newspaper when they were attacked by Sheriff Joe Arpaio.
Joya's frantic search to find the missing girls—and identify the dead child—brings readers into the real world of sex trafficking. It includes the true history of Backpage.com, that's been called an "online brothel," and its founders, Mike Lacey and Jim Larkin, currently awaiting trial on charges of facilitating sex trafficking.
This book combines a riveting fictional story with the reality that is ripped from today's headlines. The book ends with an extensive "end notes" section that details the facts and personalities of this world—both from those exploiting youngsters for prostitution, and those who have long fought to stop it.
THE DEAD GIRL IN THE PARKING LOT Excerpt:
What the hell could be happening in Phoenix, Arizona at 4 a.m. on a January morning to bring out that much firepower? Before that entire sentence raced through her mind, Joya turned left to follow the caravan. She didn't have the luxury of a free pass for speeding or racing through red lights, but fortunately, traffic was very light and she hit all greens or yellows.
She arrived at a vacant lot at McDowell and 41st Avenue minutes after the squad cars jumped the curb and circled a spot under a dying mesquite tree. She parked on the far side of the lot and jumped out of her car.
She saw six officers at first, all crowded around something under the tree, something that inspired at least one to utter, "Oh, dear Lord."
By the time she saw the two officers rushing forward to push her back, she was close enough to get a glimpse of what the dear Lord already knew. She had to see more. She jogged to the right, away from the approaching officers who were yelling at her to "Stay Back," in their I'm-God-and-You're-Not voice. But she didn't stay back and she didn't turn away and the horror kept growing.
There were times in her life when she misread a scene. When she had to look, really look, to understand what was going on. Like studying a painting to comprehend its story.
This wasn't like that. This was like searing grill marks into a steak on a Weber. This was permanent. This image would never go away. She would be an old lady ready to die—thankfully she didn't know she'd be 92, still sleeping in her Phoenix home in the same bed—and she'd see this image with the same clarity she had right now.
Jana Bommersbach is one of Arizona's most acclaimed journalists and authors. She's already been honored with two lifetime achievement awards as "an inspiration to the state's media community." She's been inducted into the Arizona Arts and Entertainment Hall of Fame, and honored by the ACLU as a "journalist and activist who speaks truth to power." She's won a regional Emmy for her television work and was named the nation's best columnist in a city magazine for her work at Phoenix magazine. She twice won the Don Bolles Award in Investigative Reporting for her work at Phoenix New Times.
Jana is known as a tenacious researcher and lyrical writer. Her debut non-fiction book, "The Trunk Murderess: Winnie Ruth Judd" was nominated for the prestigious Edgar Allan Poe Award as one of the nation's best mysteries in 1992. Her children's book, "A Squirrel's Story, a True Tale" won numerous awards here and abroad. Her first historical novel, "Cattle Kate," was named one of the best books of 2014 by Publisher's Weekly. With "thedeadgirlinthevacantlot," Jana continues exploring the world of fiction with her character, Phoenix investigative reporter Joya Bonner.
To satisfy her journalistic soul, Jana combines a fictional story with real-life incidents she's covered in the past. In her first Joya Bonner book, "Funeral Hotdish," it was the problem of Sammy "the Bull" Gravano and his Arizona ecstasy ring and how it affected Joya's safe, secure hometown in North Dakota that buried one of its children from a drug overdose. In this new book, Joya takes on the world of sex-trafficking. As the book was going to press, federal officials shut down the "online brothel" known as Backpage.com and its founders—Mike Lacey and Jim Larkin—were arrested and are awaiting trial on multiple counts of facilitating sex-trafficking.
This is a particularly poignant story for Jana to write, for a dozen years before Backpage was created, she was partners with Mike and Jim in owning Phoenix New Times. She left and sold her interest to pursue other journalistic options. As she says in the Epilogue, "I write this book with a broken heart."