Don't miss the Rafflecopter giveaway at the end of the post!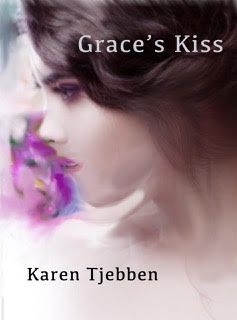 GRACE'S KISS
Romantic Suspense/Psychological Thriller
By
Karen Tjebben
Date Published:
September 2018
Grace followed the rules. She always played it safe and never put her heart in jeopardy. Until the night she met Ryan. She'd never imagined that she could connect with an alpha male like him. Giving herself to him as he'd cradled her in his arms came naturally... until she sobered up. He was everything that she'd convinced herself she didn't need. Or was he everything she needed?
Ryan balanced on a thin line of gray. He'd killed his share of demons but managed to live at peace with his actions. Then he met Grace, a woman who pushed all his buttons and shook him to his core. The need to have her overwhelmed him, but she kept shooting him down. Could he convince her that he was exactly what she needed?
GRACE'S KISS Excerpt:
Turning his torso so that he faced her, he asked, "May I kiss you?" Normally, he didn't formally ask a woman for permission to kiss her. He just went by the feel of the moment. But Grace was skittish, and he didn't want to rush her.
She knew they'd kissed on the dance floor. Heck, she'd rubbed her body against his in a shameful way as she'd groped him. But the way he asked her to kiss him, like he respected her, warmed her heart. With nerves whirring through her, she nodded and said, "Yes."
The soft, whisper reply warmed Ryan's heart in a way he hadn't expected. He wanted to pound his chest in a proud display of masculinity. She was giving him her trust, putting herself out there for him, and he appreciated that honor.
Ryan leaned towards her, looking for any hesitation or concern on her part, but there was none. The trust and innocence in her expression stirred a desire in him that he hadn't felt before. He'd experienced passion in a sexual sense, but now a different type of passion heated him. This passion didn't radiate from his cock. It wasn't lust based. This passion radiated from his heart and mind and flooded his body. Grace didn't casually give herself to men, so her affections were so much more valuable than she even realized. He liked that purity. He could see himself with her in a long-term relationship.
As he pressed a hand against her cheek, his thumb brushed over her lips. Her heart fluttered at the tender caress. She quickly licked her lips in anticipation and then felt his lips against hers. Heat washed over her that nothing to do with the hot, humid evening of a summer in the South. This was a heat that was stirred through passion and went right to her core.
She wanted more of him, tracing the seam of his lips with her tongue, she urged him to take the kiss further. He didn't disappoint. The little boat rocked as he repositioned his body for a better angle to continue the kiss. His tongue slipped into her mouth and caressed hers in an erotic dance. Her girl parts woke up and moistened. The ease and pleasure of his kiss assured her that sex with him would be equally pleasurable. Where had that thought come from? They wouldn't be having sex anytime soon, despite the need surging through her body.
When he pulled away, he'd left her panting and with a pulsing need between her legs that Daniel had never stirred up. She adjusted in her seat, wishing she could beg him for another kiss. Did he feel the same desire in his own body?
"I like you, Grace," he said. He wanted to kiss her again. Hell, he wanted to take her back to his place and make love to her, but he knew that would be rushing her. If Daniel was telling the truth, and she'd only had sex with him, then she wasn't the type to have sex after a first date. That was okay with him.
He knew they'd have more dates, and she'd eventually have sex with him after one of them. He only needed to wait her out.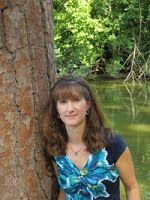 Karen Tjebben

lives in central North Carolina with her wonderful husband, twin daughters, and two hamsters. When her girls left for kindergarten, Karen discovered that she needed to fill her days with something, and that was the beginning of her new career in writing. She loves to create worlds filled with unique characters that she hopes will delight and raise goose bumps on her readers. In her free time, she enjoys traveling with her husband and seeing the world through her daughters' eyes.