Don't miss the Rafflecopter giveaway at the end of this post!
FLY GIRL
Upmarket Commercial/Women's Fiction
Date Published:
January 3, 2019
Publisher: Acorn Publishing LLC
Let pilot Tris Miles lift you up, and fly you to new heights with her inspiring story of love, ambition and the meaning of success.
R. D. Kardon's debut novel puts you in the cockpit with Tris Miles as she navigates the challenges of integrating an all-male corporate flight department in 1997. Tris encounters harassment, marginalization, and backstabbing on her journey to becoming a jet captain.
____________________________
It's 1997. Women stand beside men in combat and fly fighter jets. Pilot Tris Miles is not content with her job as a First Officer for tiny Clear Sky Airlines. She wants to be a Captain—the only way she knows to prove her worth as a pilot and atone for a deadly mistake.
To further her career, Tris accepts a prestigious job with Tetrix, Inc. But her dream of becoming pilot-in-command twists into a nightmare.
As the company's first woman pilot, she encounters resistance, marginalization, and harassment on a daily basis. Fortunately, Tris has one thing her co-workers can't deny—skill.
When Tris finds herself in a crippled airplane thousands of miles from home she must prove she can lead. With her career on the line, can Tris earn the respect she's been craving? And if this is the end, can she find the strength to forgive herself?
FLY GIRL EXCERPT
"WELCOME TO LUXEMBOURG, Astral November Nine Tango X-ray. Runway Two- Four, cleared to land, wind two-five-zero at six knots, right turn off." Tris acknowledged the landing clearance.
"Gear down, before landing checklist," Deter said.
Tris grasped the handle that lowered the Astral's landing gear. She kept her left index finger pointed at the three lights that would turn green when each of the plane's wheels were down and locked. After a few seconds, Tris saw the left main and nose gear lights illuminate, but the right gear light remained dark.
"I do not have three green. No three green," she said quickly. The aircraft was just six hundred feet above the ground.
"What the fuck?" Deter screamed but took no action as the Astral moved closer to the ground.
Deter hesitated so Tris made the call. "We don't have three green. Go around!"
"Go around!" Deter slammed full power on the aircraft. He swore under his breath as the airplane's nose hesitated, then pitched up.
Tris lifted the gear handle to stow the gear. Maybe raising it would shake something loose, and that third light would come on next time they tried to put the wheels down. But first, the Astral had to get away from other air traffic.
"Tower, Nine Tango X-ray, missed approach. We can't con-firm that the landing gear is down and locked. We need a vector to an area where we can diagnose the problem." Deter nodded along with her demand.
"Roger, Nine Tango X-ray, fly heading two- four-zero, climb and maintain six thousand.
Let us know what happens."
"What is wrong with the goddamn gear? Recycle it! Now!" Deter's words landed like blows, his anger unrestrained. Tris recovered quickly; she had to. And she couldn't punch back. The five souls aboard the Astral were in real danger. They weren't on the ground with options—they were in the air with none.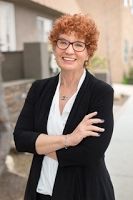 Robin "R.D." Kardon

was a litigation attorney before beginning a twelve-year flying career as a corporate and airline pilot. She holds an Airline Transport Pilot certificate and three Captain qualifications. Her travels took her all over the world in every type of airplane from small single-engine Cessnas to the Boeing 737. Robin earned her B.A. in Journalism and Sociology from NYU and J.D. from American University, Washington College of Law. A native New Yorker, Robin now lives in San Diego, California with her beloved rescue pets. , a work of fiction inspired by her own aviation experience, is her first novel.