Don't miss the Rafflecopter at the end of the post!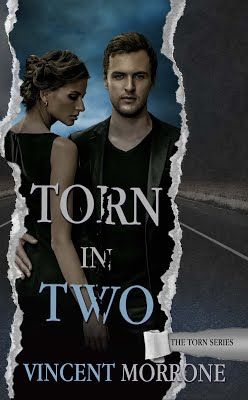 Torn In Two
by
Vincent Morrone
Book 2 in a three part series.
Publisher:
The Wild Rose Press
In small towns, secrets are like bodies. People kill to keep them buried.
Detective Ollie Miller has a new partner. A man once framed for murder, who's now haunted by dark secrets. When the remains of five corpses are discovered, Detective Miller realizes there is a monster among them.
The
woman he loves, Ashley Duncan hides her past. Abused by her sadistic, alcoholic
father, Ollie will need to show her a man's touch can heal her tortured soul.
Drew Duncan swore he'd never go back to Ember Falls again. After he was wrongfully charged with his high school girlfriend's murder, he waited for a trial that never came. When he was released from jail a year later, he left everything behind. But when his sister is murdered, Drew is forced to return to the hometown where he and his sisters were brutalized by their alcoholic father.
Once back, not even his training as a Marine and point man for McAlister Security prepares Drew for what he must face--a surviving sister who refuses to forgive him for abandoning her, a nephew who trembles when he enters the room, and an entire town that thinks he got away with murder. To protect his nephew, Drew will face his most terrifying fear. Going home.
Ashley held the note tightly in her fingers. "Can I tell you about something that happened to me when I was twelve?" She paused as she placed the note down.
"Drew was out hanging with friends. Kelli was hiding in our room, in case dad came home. I was hungry, so I decided to make something to eat. I tried scrambling eggs, but they burnt." She gave a half smile. "Dad came bursting in. Threw the pan in the sink and knocked me to the ground. I tried to get up, but he back handed me. I was flat on my back, when he leaned over me. Told me how it's a crime that I couldn't make eggs, because that meant he would be stuck with me since no man would take me. He figured Kelli would be a nice little punching bag for some asshole." She scowled. "Guess he was right there. Drew would leave, and he'd be stuck with me unless I could find a man to put up with me. And the only way I'd ever do that is if I learned to fuck."
She closed her eyes as she continued. "I can still smell the cheap beer on his breath, the smell of cigarettes on his clothes. He held me by the throat, and I couldn't breathe as his bloodshot eyes looked me up and down. I swear to God, I thought he was going to rape me. He probably would have if Drew hadn't come home. Drew kicked at him, and Dad broke his arm."
"Oh no," Ollie said. "Oh baby. I'm sorry. I never knew."
Ashley nodded in his chest. "Now you do. That wasn't the only horrible thing he did. He was always vulgar. Always saying things like that, but that was the one time I really thought he'd do that." She let him pull her into his arms. "I'm sorry, but this is what you're getting with me. I'm broken."
"No, you're not." Ollie kissed the top of her head.
"You need to see me for what I am."
"I do," Ollie said. "I know you're not perfect. I know you have a past. I love you. That's never going to change. And if you're broken, then I'll break myself to fit."
Born
and raised in Brooklyn NY,

Vincent Morrone

now resides in Upstate NY with his
wife. (Although he can still speak fluent Brooklynese.) His twin daughters
remain not only his biggest fans, but usually are the first to read all of his
work. Their home is run and operated for the comfort and convenience of their
dogs. Vincent has been writing fiction, poetry and song lyrics for as long as
he can remember, most of which involve magical misfits, paranormal prodigies
and even on occasion superheroes and their sidekicks.